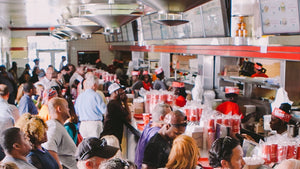 GROUPS, WE LOVE EM!
There is no place better to feed a large group than The Varsity. Whether you have a school group out on a field trip, or taking a tour group to see the Braves, The Varsity is the fun, fast, and delicious place to stop. Nowhere in town will you find a better selection of menu items.
HOW WE HANDLE YOUR LARGE GROUP?
The Varsity is famous for serving extremely large groups. When you serve 30,000 people in one day, you learn a thing or two about large groups. At the Varsity, we have the space and the means to serve your large group. Whether it's a meeting, reunion, family outing, team outing, or bus group, we can do it. To make it easier on you and your group, we offer meal vouchers. You can buy your vouchers ahead of time or right when you and your group arrive. With Varsity meal vouchers, your group can fly through the line and be eating in no time.
Please Note: The meal voucher pricing covers the most expensive combination of food items for that voucher as well as tax. No change is given.
BRINGING A GROUP TO THE VARSITY? Here are answers to the most frequently asked questions about group events.
Either way is fine. It is always quicker to pay individually because your group can spread out and be waited on much faster than having to run everyone through one line. You can purchase individual meal vouchers from our website. We accept checks from state or government operated schools and colleges only. We do not accept personal or company checks.
We do not accept personal or company checks. We accept checks from state or government operated schools and colleges only. You may actually find it easier to purchase our meal vouchers online at our website or at our stores in advance. Just choose from one of our three meal options. We also have a desert voucher available. Each one gives your guests the freedom to make some choices and gives them a chance to experience The Varsity for themselves.
We accept Visa, Mastercard, American Express and Discover at all of our locations.
Due to the nature of our business and the volume of groups arriving we are unable to reserve areas, seating is on a first come first serve basis. You may want to have some one with your group arrive about 15 minutes early and try to take over an area for you. You are welcome to bring partys decorations. We want you and your group to have a great time at the Varsity. The downtown location seats 800 people, so there is usually plenty of room for large groups. The Towncenter, Gwinnett and Dawsonville locations can also handle large groups.
No, we do not make orders ahead of time due to quality and freshness issues. Ever since Frank Gordy opened The Varsity, our mission has been to serve the same great quality to huge crowds as they show up. By preparing the food as it is ordered at the counter, we can insure the quality that has made The Varsity famous around the world. The best thing you can do to speed up service is to print off menus from this site and allow your group to review them on the way. Then, when someone hollers, "Have your order in your mind and your money in your hand", you'll be ready.