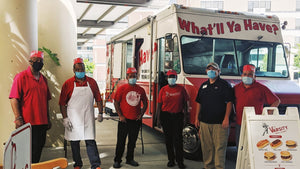 THE VARSITY CATERING
Why settle for just food, when you can bring the Varsity Experience to your next picnic or party?
View Catering Info
Welcome Groups & Buses
Whether you have a school group out on a field trip, or taking a tour group to see the Braves, The Varsity is the fun, fast, and delicious place to stop.
How we handle groups
THE VARSITY GIFT SHOP
Looking for a gift for someone or just craving The Varsity's World Famous Chili? Our online shop has got you covered.
Browse the Gift SHop
OUR STORY
The original Varsity was opened in 1928 on a 70' X 120' lot with a white picket fence by a man named Frank Gordy; a man with a $2000 nest egg and "million dollar taste buds." Through his dedication to freshness, superior quality, advanced technology and serving the best food fast, he gained a reputation that is known worldwide.
OUR FANS
We have the best fans! Share your Varsity photos and stories with us on Facebook, Twitter, and Instagram. Follow us for updates and events.
Visit Our Fan Page